Massage Therapy and Stress Relief: Is There Really a Link?
Massage Therapy and Stress Relief: Is There Really a Link?
Written By Chapman Health Group on January 8, 2021
---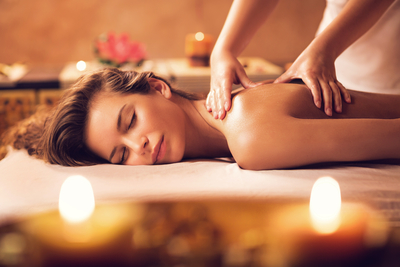 It's not a secret that this hands-on therapy can help you relax in the moment and ease some of the pain you experience because of sore muscles.
However, recent research shows that regular massage treatments can lead to stress relief both in the short and long term.
Scientific Studies Evaluate the Effects Massage Therapy Has on Stress
In 2019, researchers evaluated a group of people with one of the most stressful jobs around – emergency medical services.
Fifty-eight participants joined the randomized study, meaning that half the group received massage therapy twice a week, while the other half didn't receive any treatment.
Both groups were evaluated for four weeks. The group that received massage therapy reported a significant reduction in stress. However, the stress relief didn't just come during their massage appointment. They noted that they experienced lower stress levels hours and days after the treatment and even while they were on the job.
Each massage appointment lasted only 20-25 minutes, proving that even a short massage can have a profound effect on stress levels.
Why Stress Relief is So Important
We live in a high-stress society. It's become the norm. In some situations, it's even a status symbol, proof that someone has good work ethic or won't let anything get in the way of their success.
Unfortunately, living with chronic stress can severely damage the body and mind. It can lead to:
Increased anxiety
Feelings of depression
Insomnia
Obesity and/or difficulty losing weight
High blood pressure
Heart disease
Heart attack
Heart palpitations
Headaches and migraines
Low energy
Panic attacks
Lowered immune response
Gastrointestinal issues
Muscle pain
Increased inflammation
Over time, chronic stress will take a toll on your health. It's best to find ways to reduce stress and incorporate therapies that provide stress relief, like massage therapy.
Cutting-Edge Techniques for Better Results
Your massage therapist at Chapman Health Group is trained in multiple therapies so that they can address a variety of needs, a concept which Dr. Todd Chapman utilizes throughout his practice.
Your Leesburg chiropractor creates a unique treatment plan for each patient that incorporates multiple therapies based on the latest research. Incorporating multiple treatment options will help your body heal even faster from stress or injury.
Interested in learning more about the link between massage therapy and stress relief? Contact us at 352-728-6886 to schedule a consultation.

Posted In: Chiropractic Massage Therapy Stress Relief