3 Advantages of Seeing a Chiropractor for Sports Injuries
3 Advantages of Seeing a Chiropractor for Sports Injuries
Written By Chapman Health Group on July 14, 2021
---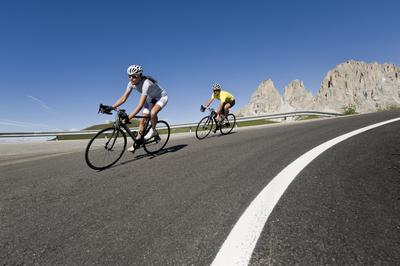 Our chiropractors at Chapman Health Group in Leesburg have deep knowledge of human anatomy and extensive experience in treating sports injuries, making our doctors the best choice for when athletes, weekend warriors and active individuals get hurt. Out of the many advantages of seeing a chiropractor, our top three are:
Chiropractic provides drug-free care for sports injuries.
Chiropractic treats the root cause of injury.
Chiropractic helps your body prevent future injury and reinjury.
Chiropractic Provides Drug-free Care for Sports Injuries
There are many studies, including this one, that confirm you'll heal slower if you take anti-inflammatory drugs (NSAIDs). The inflammatory response is part of the healing process. NSAIDs inhibit the inflammatory response, which is your body's signal to send healing cells to an injury site. So when you take NSAIDs, they interrupt the signal and your body stops sending in healing cells.
Instead of drugs, our chiropractors work with your inflammatory response and other healing mechanisms to help you recover as quickly as possible. We offer hot and cold therapies, depending on what your body needs to flush out the injury site, e-stim for fast pain relief and to safely reduce swelling while promoting healing, and various chiropractic methods to help your body heal.
Chiropractic Treats the Root Cause of Injury
The best way to treat an injury is to address how exactly it happened and why. We figure out why the injury happened at that site. These answers reach beyond you sprained your ankle because you landed funny after going up for a rebound, or a ligament tore because a huge defensive lineman landed on your leg. The true understanding is why one ligament tore and not another, and why one ankle sprained and not the other.
Injuries often occur due to weakness or an imbalance in muscle strength. Our thorough evaluations help both you and our doctors understand the root cause of your injury so we can properly treat it and help your body heal. For example, if your elbow hurts, but the real problem lies with an issue in your shoulder, we'll address your shoulder to help your elbow.
Chiropractic Helps Your Body Prevent Future Injury and Reinjury
Our doctors perform this extra step because we understand how frustrating it is to get sidelined. We want to keep you active and performing at your best. This means taking steps to reduce the chances of reinjury.
We'll prescribe appropriate exercises, stretches and muscle-building exercises to provide proper support to an injury site. We also provide therapeutic exercises to promote proper motion and help damaged tissue heal correctly.
Get Chiropractic Treatment for Sports Injuries in Leesburg
Dr. Chapman's practice combines traditional patient-centered care with cutting-edge technology, leaving visitors feeling welcomed, cared for and confident that they are in the right place.
Have questions or want to schedule an appointment? Call us at (352) 728-6886 or go online and schedule an appointment. We're happy to help.

Posted In: Chiropractic Sports Injury Treatment